XMP-S1 Low Cost
XMP-S1 Manual Pick and Place Machine Start-up Package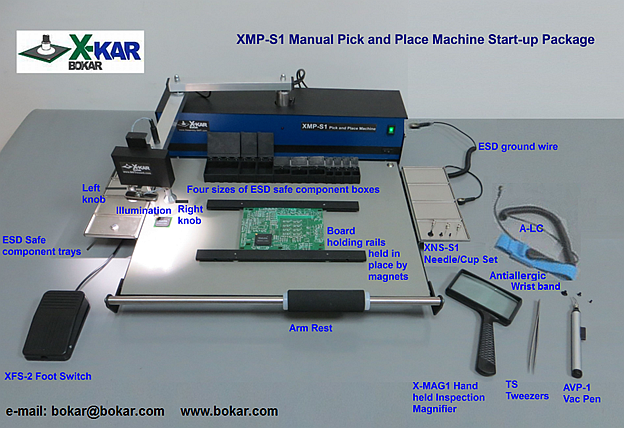 XMP-S Series Pick and Place Machines (Start-up Version), have been designed to offer budget solution for educational institutions teaching SMT manual assembly and small shops producing board prototypes or low volume production. The machines are fully ESD safe and are very capable.
     They are more delicate and offer a bit less comfort than XMP-300 professional machines.
But for those, who are on the budget for the quality equipment, the XMP-S Series machines are an excellent alternative to more expensive machines.
     The S series XMP machines have the design allowing left and right handed operation without any alternations. Also, our XMP Pick and Place units were designed for ESD Safety and all subsystems are connected in the machines to a common ESD grounding point.
     Typical applications of manual pick and place systems are Low Volume Assembly, Prototyping, Pre-production runs, Repair and Rework.
X-KAR XMP-S Series are offering the best price/performance ratio. This statement applies to all other X-KAR products.
XMP-S Machines Features:
Precise and smooth arm movement all around the working area.
Accommodate large boards up to 18" x 12" (457 x 305 mm). Wider boards can be rotated 180 degrees to place the components on the boards which width exceeds 12" (305mm).
Included as a standard an illumination system mounted on an arm focusing light on working area - both during pick-up of a component and the placement on a board.
Two rotation/motion control knobs allowing operation by both right and left-handed operators without any alternations.
Fully Antistatic. It is supplied with AML-LC (or AML-LC10) wrist strap and an ESD grounding wire. All subsystems are connected to a common ESD ground point

XMP-S1 System Package includes:

XMP-S1 Pick and Place Unit
Eight ESD safe component trays
XFS-2 Footswitch
XIL-S1 Illumination Module
ESD safe loose component boxes with spring closure leads

A-BOX-4 one box, A-BOX3 two boxes, A-BOX-2 three boxes and A-BOX-1 four boxes

XNS-S1 Needle/Cup Set (Three metal needles and three rubber vacuum pick-up caps)
X-MAG1 – Hand held magnifier to inspect accuracy of the placement
AGW-6BA coiled grounding wire
AML-LC Wrist strap with 6 ft. long coiled cord
AVP-1 Hand held Vacuum pick-up pen.
TS-Stainless steel, not magnetic tweezers
A power cord
A Manual and a Warranty Card
Technical Specifications:
| | |
| --- | --- |
| Power Requirements | 110-120 VAC (315mA) or 220-240 VAC (160mA) |
| Maximum placement area on the PCB | 18" x 12" (457 mm x 305 mm) |
| Loose component trays | Eight pieces, four on each side of the machine. ESD safe. Size 2"x 3 1/8" (80mm x 50mm) |
| Vacuum Source | Diaphragm pump. 240 mmHg |
| Outside Dimensions | 24.6" x 19.8"x 9.8" (625mm x 500mm x 250 mm) |
| Weight | 24lb (10,9 kg) |
| Shipping package weight and dimensions | 20.9"x 20.9" x 8.2" (530mm x 530mm x 210mm) 29Ib (13 kg) |
Optional accessories:
XPT-LB      - Left Side Bracket for feeders
XPT-RB     - Right Side Bracket for feeders
XPT-8         - 8mm feeder
XPT-12       - 12mmfeeder
XT-S1/8      - Pack of 8 single compartment trays
XNS-1        - Needle/cup set (3 metal needles and 4 different sizes of ESD cups)
XCS-1        - Cup set (2 each of 4 sizes of ESD cups)
A-BOX….. - ESD safe loose component boxes A-BOX1, A-BOX2, A-BOX3 and A-BOX4