Ionized Air Cleaning Chambers
A-IAPC-M Ionized Air Parts Cleaner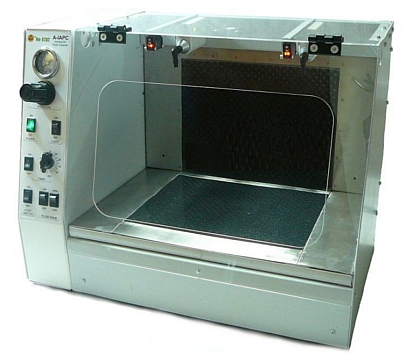 Description and Technical Specifications:   
The A-IAPC-M Parts Cleaning Chamber was designed to incorporate advanced, useful features to optimize cleaning of small and medium size parts while using advanced technologies to bring its price to reasonable levels.
The chamber features:
Two ionizing air nozzles blowing cleaning air downwards for efficient static removal and cleaning 
Maximum air striking mode in which all air is redirected to one ionized air nozzle allowing the unit to clean exceptionally difficult details on the cleaned object. In this mode, the nozzle on the right is deactivated 
Two motion sensors to activate the unit when placing the object to be cleaned into the chamber
A timer to set the time when the pressurized ionized air functions
Foot Switch activation to bypass the motion sensors if so desired.
Pulsed action of the cleaning ionized air in which the air is striking the cleaned object at pre-set intervals
Technical Specifications:
Operating voltage and Power usage

AC 100V-240V ~50/60Hz   Power consumption: 14 W

Ionizing Air Nozzles

Two pieces. ZeroCharge Brand Model  AI-N3

Recommended input pressure

30 to 100 psi 2~7 Kg/cm2.  Maximum 120 psi (8 kg/cm2)

Air (Nitrogen) Input connection

Line diameter OD=0.315"  (Ø 8mm)

Ion Balance

0V±10V

Ozone concentration

0.01ppm

Decay time of the charge on the cleaned object

Less than 1.3 sec (from 1000V do 100V at the distance of the object from the nozzle of 8"(150mm)

Timer 

1 to 36 sec.

Pulse Mode ionized air delivery

"HIGH" setting blows air for 90 milliseconds every 90 milliseconds

"LOW" setting blows air for 180 milliseconds every 180 milliseconds

Air extraction from the chamber

135 SCFM (230m3/h) via 2.9" (74mm) diameter port and an 
optional HEPA filter XF-IAPC1

Operating conditions

Temperature: 0C~ 50°C     Relative Humidity: 20% ~ 85% 

Outside dimensions
(L x W x H)

20" x 12" x 16" (508mm x 305mm x 406mm)

Useful inside dimensions
(L x W x H)

13.8" x 9.8" x 7.5" (350mm x 249mm x 190mm)

When open front Cover:

Useful inside dimensions
(L x W x H)

16.3" x 9.8" x 8.5" (414mm x 249mm x 215mm)

Gross and net weight:

28.7 lbs. and 22.1 lbs. (12,5kg and 10 kg)
How to use the chamber:
Open the transparent window located on the front of the chamber to provide a clear view of the cleaned item. Two ionizing nozzles built into the upper part of the chamber blow air downward. Ionized air removes static electricity and pollen at the same time from the object that is to be cleaned. When the object is manually put in into the chamber, the sensors activate the blower.