MicroOven for Smart Phone repairs
MicroOven for Smart Phone repairs
X-100 MicroOven for cellular phone and tablets repair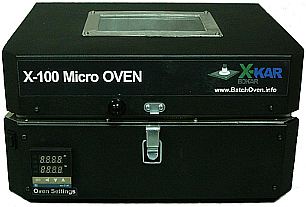 X-100 MicroOven  Full Convection Oven designed for preheating cellular phones and tablets when replacing broken glass. Uniform heat with maximum setting of 90 degrees. Will preheat the cell phone in a matter of single minutes. Easy to use. Can operate continuously to maintain constant temperature at all times.
Other applications: 
1. Preheating solder paste before use with stencils or dispensers after taking it from cold storage,
2. Curing epoxies, board coatings etc. 
Technical Specifications:
| | |
| --- | --- |
| Input Voltage | 115V  AC 60 Hz or 230V AC 50 Hz |
| Power Consumption | 890W |
| Fuse | 4A |
| Temperature range | 0°C to 90°C |
| Heater Control | PID, Closed-Loop Thermocouple sensor feedback |
| Heated area | L=11,81" x W=7,87" x H=2,76"-3,94 (L=300mm x W=200mm x H=70-100mm) |
| Heaters | 1 heater 880W |
| Space inside | Accommodates 3  6" diagonal cell phones or one Tablet size up to 10" |
| Viewing Window Size | 5.43"x3.03" (138×77 mm) |
| Size | L=13,78"xW=10,63"xH=8,86" (L=350mm x W=270mm x H=225mm) |
| Weight unpacked | 14,36 lbs. (6,5 kg) |
| Packaged weight | 19,9 lbs. (9 kg) |
X-100 MicroOven - Operating Manual