MiniOven for Re-balling and small boards
MiniOven for Re-balling and small boards
The MiniOven was designed for Re-Balling and soldering the boards up to size 6"x 4.7"
There are 2 models of this MiniOven: X-106 MiniOven – basic for heating and
      Model X-106 AC which incorporates fast cooling to solidify molten solder in 60 seconds or less.
The cooling feature is unique to X-KAR Brand and helps reliability of soldered connections.
      The X-106 MiniOven was designed primarily for even, 100 % convection fast heating during soldering or re-balling. It provides full profiling, nitrogen environment if needed and the exceptionally accurate process control. It has a choice of the operating mode 
bd-t (object or board temperature control). In this mode the oven will deliver hot air or nitrogen to achieve desired temperatures of the surface where the external control thermocouple is attached.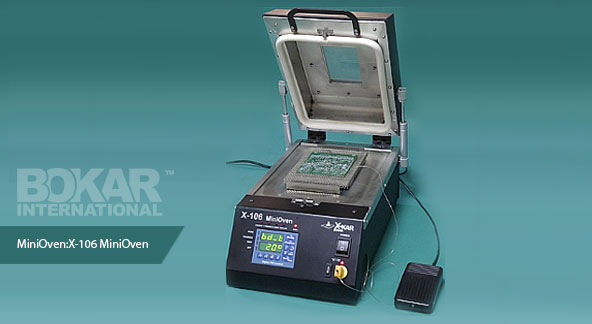 TECHNICAL SPECIFICATIONS:
Input Voltages

220-240V AC  50/60 Hz  or  110-120V AC 50/60 Hz

Power Consumption

1790W

Fuse

8A for 220-240V,   16A for 110-120V
Slow-Blow 6mm x 32mm

Heater Control

PID, Closed-Loop Thermocouple sensor feedback

Reflow area

6.3"x4.7"x1.57" (160x120x40mm)   

Temperature range

86 ºF – 662 ºF  (30 ºC – 350 ºC)     

Temperature Zones

Preheat1, Preheat2, Soak, Reflow, Cooling – Total of 5 (five) zones

Heaters

2 Heaters (Front and Rear) 900W each

Max. PCB size

160 x 120 mm     (6" x 4.7")

Communication with PC

RS485 port ( XKAR X485-USB converter required to connect to PC USB port)

Weight

8kg  (17.7 lbs.)

System dimensions

17.3" x 8.8" x 8.3" (440mm x 225mm x 210mm)    

Packaged weight

22.1 lbs. (10kg)