Bench Top Ionizers
Why ionizers are needed in Static Control?  Where do they help?  Where are they the only alternative?
"Non-conductors in the electronic manufacturing or service  environment cannot lose their electrostatic charge by attachment to ground. The only other way to provide neutralization of charges on these non-conductive items (circuit board materials, non ESD safe packages etc.).
 ANSI/ESDS20.20-2007 section 8.3  sets the requirement as follows: "In order to mitigate field-induced CDM (Charged Device Model) damage, the company ESD program shall include a plan for handling of process-required insulators. If the field exceeds 2,000 volts/inch, steps shall be taken to either: a) Separate the insulator from the ESD-sensitive device by a distance of 12 inches (30 cm); or b) Use ionization or other charge mitigating techniques to neutralize the charge.
 A complete static control program must deal with conductors that cannot be grounded, insulating materials (e.g., most common plastics), and moving personnel who cannot use wrist or heel straps or ESD control flooring and footwear.
ESD Handbook TR20.20 Ionization, section 5.3.6.1says:
"Air ionization is not a replacement for grounding methods. It is one component of a complete static control program. Ionizers are used when it is not possible to properly ground everything and as backup to other static control methods. This also applies to clean rooms where air ionization may be one of the few methods of static control available."
Ionization devices require periodic maintenance for proper operation. Maintenance intervals for ionizers vary widely depending on the type of ionization equipment and the environment where they are used.
                                                                                     Ionizing Air Blower AI-LC
                           - Operating voltage: 110V/60Hz or 230V/50Hz
                           - Operating Temperature: 0~50°C
                           - Ion Balance: 0V±5V
                           - Air Volume: 45~110 CFM
                           - Coverage Area: 300mm × 900mm
                           - Current Consumption: 0.25A or 0.12A
                             (for 230V)  
                           - Size: 220mm(W) × 90mm(D) × 260mm(H)
                           - Weight: 3Kg
                                                                                      Ionizing Air Blower AI-450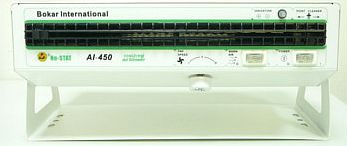 - Operating voltage: 110V/60Hz or 230V/50Hz
    - Operating Temperature: 0~50°C    
    - Ion Balance: 0V±5V
    - Air Volume: 70~190CFM
    - Coverage Area: 500mm × 1200mm
    - Current Consumption: 3.0A or 1.5A (for 230V)
                                                                     - Size: 570mm(L) × 220mm(W) × 190mm(H)
                                                                     - Weight: 8Kg
                                                                                       Ionizing Air Blower AI-400S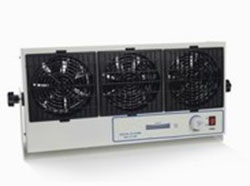 - Operating voltage: 110V/60Hz or 230V/50Hz
    - Operating Temperature: 0~36°C  
    - Ion Balance: 0V±5V  
    - Air Volume: 200~400CFM
    - Coverage Area: 600mm × 1200mm
    - Current Consumption: 3.0A or 1.5A (for 230V)
    - Size: 430mm (L) x 90mm (W) x 210mm (H)
    - Weight: 4Kg
                                                                                        Ionizing Air Blower AI-101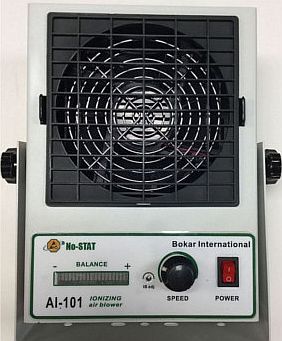 - Operating voltage: 110V/60Hz or 230V/50Hz
                             - Operating Temperature: 0~50°C
                             - Ion Balance: 0V±5V
                             - Air Volume: 280~600 CFM
                             - Coverage Area: 300mm × 900mm
                             - Current Consumption: 0.25A or 0.12A
                               (for 230V)
                             - Size: 130mm(W) × 90mm(D) × 184mm(H)
                             - Weight: 1.2Kg
                                                                                        Ionizing Air Blower AI-1000

           - Operating voltage: 110V/60Hz or 230V/50Hz
           - Operating Temperature: 0~50°C
           - Ion Balance: 0V±5V
           - Air Volume: 70~190CFM
           - Coverage Area: 500mm × 1200mm
                                                                    - Current Consumption: 1.3A or 0.65A (for 230V)
                                                                    - Size: 1060mm (W) * 220mm (H) * 240mm (H)
                                                                    - Weight: 18Kg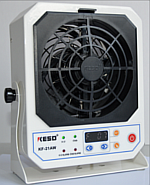 Mini Ionizer KF-21AW
                              - Operating voltage: 220V
                              - Operation Temperature: 0oC-40oC
                              - Ion Balance: Auto Ion balance system
                                <=0±10V (Test Range:30cm)
                              - Air Volume: 2.56-4.07m3/min
                              - Size: 192.5mm(L)x180mm(W)x72mm(H)
                              - Weight: 1.59Kg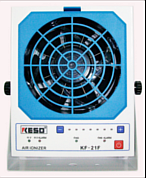 Mini Ionizer KF-21F 
                                 - Operating voltage: 220V
                                 - Operation Temperature: 0oC-40oC
                                 - Ion Balance: Auto Ion balance system
                                    <=0±10V (Test Range:30cm) 
                                  - Air Volume: 2.56-4.07m3/min 
                                  - Size: 192.5mm(L)x180mm(W)x69mm(H)
                                  - Weight: 1.26Kg