Compact Ionizing Nozzle AI-N3
AI-N3 Ionizing Air Nozzle

Features:
The ionizing air nozzle has a high voltage module integrated inside its compact enclosure. It is powered by safe, 

low voltage power supply. 

It can be used in high temperature and humidity environments. 

When the green indicator light is on, the performance of static elimination is normal. When the red indicator light is 

on, the high voltage power supply does not deliver required voltage and the nozzle needs maintenance. 

When power supply fails during use, the alarm sounds to stop the work in progress. 

Positive ions and negative ions are automatically balanced. It is not necessary to adjust the ion balance. 

Specially designed ionizing needle reduces sound and increases corrosion resistance.
Basic Parameters:                                                                    System Includes:
Input Voltage: DC24V, 200mA                                                   1. AI-N3 Ionizing Air Nozzle P/N 32885
Output Voltage: 2200V AC                                                         2. Power Supply P/N: 32886
Air Pressure: 2~7 (Kg/cm2)                                                   3. Manual
Ozone Concentration: <0.01ppm                                               4. Warranty Card
Ion Balance: 0V±10V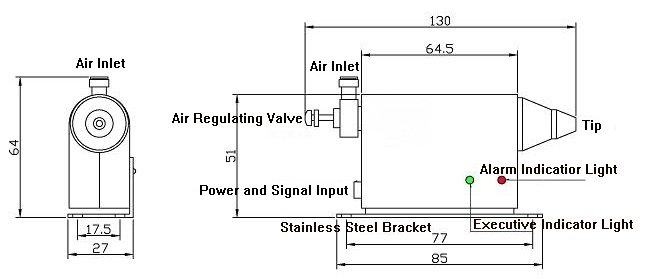 AI-N3 TECHNICAL SPECIFICATIONS:
Power Supply to the Ionizing Air Nozzle:

INPUT: AC 100V-240V ~50/60Hz

OUTPUT: DC 24V, 2A

Air pressure :

2 ~ 7 Kg/cm2

Air connector spec:

Diameter Ø6x4mm

Ion balance:

0V±10V

Ozone Concentration:

0.01ppm

Discharge time

less than 0.8 sec (1000V decrease to 100V at 150mm distance of the 6" x 6" charged plate from the Air Nozzle)

Operating Conditions:

0C~50°C(temperature),

20% ~ 85% (relative humidity)

Size

64(L) x 27(W) x 130mm (H)

Net weight:

120± 5g ( 250± 5g with Power Supply)
Example of the Discharge time graph (delivered with each unit)                      
Discharge time measurements are performed under the conditions described below:
room temperature: 25°C, humidity: 50%, 

distance of the 6" x 6" charged plate from the Air nozzle: 150mm 

air pressure: 3 Kg/cm2

           Discharge time from 1000V                                      Discharge time from - 1000V