Ionized Air Guns AI-P Series
Part #: AI-P Lux 
The AI-P Lux is a lightweight, high-frequency handheld AC ionizing air gun that emits a stream of positive and negative ions.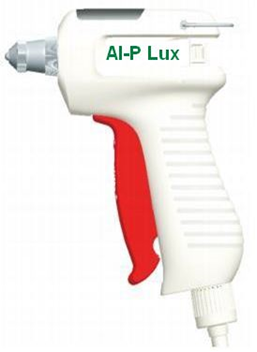 Description and Features:
The built-in high voltage system automatically balances ions to within ±15V. The emitted ionized air stream both eliminates static and cleans dust. The air pressure ranges from .05 MPa to .5 MPa.
A fixed internal filter increases the airflow rate, which decreases the required operation time.
One cable provides both air and electrical power. 
Optional nozzles are available to adjust performance to match the task at hand.
Technical Specifications:
Dimensions: 147mm x 118.1mm x 33.3mm
Ion Balance: 0 ± 15V
Filter: 0.2μm
Ozone: <0.03ppm
Cable length: 2m
Weight: 175g
---
Part #: AI-P1
The AI-P1 is our most popular ionizing gun. It is assembled in the USA. Key features include its compact form factor, built-in air filter, and low voltage power supply.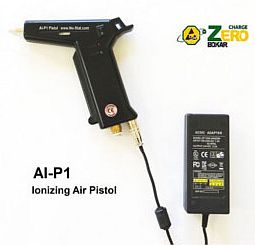 Description and Features:
Ionizing guns immediately neutralize static electricity on charged objects, making them electrically neutral. The ionized air blast also removes dust and contaminants for efficient cleaning and rapid static discharge.
The gun is suitable for class 100 clean rooms. It contains a replaceable filter that blocks particles as small as 0.01 microns.
The effective distance of the guns is up to 3.25 feet (1 meter).
AI-P1 Ionizing Guns are reliable and virtually maintenance-free. The AP-1 has an ergonomic and lightweight design with a light-touch trigger which reduces user fatigue. It connects directly to a standard compressed air source and its AC-DC converter connects to a standard power outlet.  
This gun provides a precise airflow for removing contaminating particles off any surface. It is ideal for cleaning small parts and other applications where precision and accuracy is required.
The built-in piezo-transformer provides high efficiency and does not generate EMI, making the unit safe to operate. An indicator light will illuminate if the circuit is unsafe. No auto adjustments are needed, because this unit is self-balancing.
The AI-P1 package includes the ionizing gun, a universal power adapter, a power supply cable, a calibration certificate, a factory QC test sheet, and a warranty card.
Technical Specifications
Dimensions: 6.0" x 1.1" x 6.7"
Ion balance: 0 ±15V
Filter: 0.01 micron replaceable filter
Ozone: 0.003PPM
Power input: 100-240V AC converts to DC 24V (68K Hz)
Controls: On/Off switch with trigger control
Cables (total length of power cord and adapter cable): 12'
Weight (hand unit without AC-DC converter): 0.5 lbs
Input pressure range: 8 - 80 psi
Discharge time: < 1.0 second from 1000V to 100V at 6", 2", and 1"
Safety and the conditions for warranty:
Not for use in flammable environments
Keep out humidity and water
The pressurized air supply must be clean and dry
Disconnect the power supply before cleaning and maintenance. If cleaning of the air gun is performed with alcohol or other solvents, wait until the gun fully dries before reconnecting it  to the power source and using it again
Do not open and repair this high voltage device by yourself if you are not a qualified technician
Calibration
The AI-P1 ionizing air gun is very reliable. To verify calibration before shipment, a charge plate analyzer is used to measure decay times at various distances.
Suggested check interval: once per year
We have a calibration lab and can calibrate guns for our clients and issue Calibration Certificates including voltage decay printouts from a Trek Charge Plate Analyzer.
---
Accessories
|   | Part Number | Description |
| --- | --- | --- |
| | AL-15-G7 | Compressed Air Flex Line, 6mm OD / 4mm ID, Working lenghts 15' (~4.5m) |
| | XMF-110 | Micro Filter, 90-130 microns/120psi |