XHP-300 Hot Air Pencil/Iron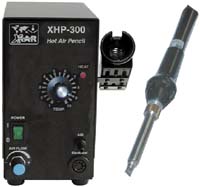 XHP-300
Microprocessor controlled for accuracy, ESD safe and ergonomic with improved air flow and quiet, efficient air pump.
Designed to outperform hot air pencils presently available from other supplies. XHP-300 has PID control of the heater and maintains steady temperature with high accuracy. It features a standby mode to speed-up time to readiness.
The unit, when used with optional XSI-10 hand piece, is a precise Soldering Station. Both Hot Air Pencil and Iron can be used interchangeably and microprocessor controller will adjust automatically for best control of either hand piece.
System includes
Technical Specifications
| | |
| --- | --- |
| Input Voltage | 110-120, 220-240V AC  |
| Power consumption | Max. 90VA |
| Hand piece Voltage | 24V AC |
| Temperature Range | 200°- 420°C (392° - 788°F) |
| Air Source | High efficiency, long life diaphragm pump |
| Input pressure range | Min 4 bar - Max 10 bar |
| Air Flow | 0.5 to 4.5 l/min |
| Hand piece weight | 50g (.11 lbs.) w/o cord |
| Air Nozzle kit XHP-NS1 | 3 Nozzles: XN-2, XN-3 and XN-6 |
| Weight | 3.6kg (8 lbs.) |
| System dimensions | 225 x 166 x 88 mm    8.9" x 6.5" x 3.5" |
| Packaged weight | 3,6kg (8 lbs.) |
Optional Equipment:
| | | |
| --- | --- | --- |
| | | |
| XN-1 | XN-2 | XN-3 |
| | | |
| XN-4 | XN-5 | XN-6 |
| | | |
| XN-7 | XN-8 | XN-9 |
| | |
| --- | --- |
|     | Nozzles contain in XHP-NS1 Nozzle Set |