New redesigned, ESD safe and ergonomic with improved air flow and quiet, efficient air pump.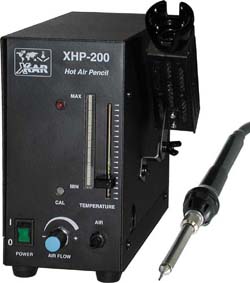 XHP-200
When used with X-KAR Pre-heaters, this Basic Hot Air Tool allows for REWORK and REPAIR of most of SMT Technology Boards, while maintaining Process Control and operator convenience. This is the only system in the world, which operates as either convection or conduction unit, depending on the hand tool connected to the base.
XHP-200 Hot Air Pencil System has been designed to obtain better performance than hot air tools presently available on the market from other suppliers. This tool is a must in today's rework or repair of printed circuit boards containing Surface Mount Components.
XHP-200 is fully anti-static. The system is self contained (no need for an external air source), has integral tool holder and is supplied with three different air nozzles and anti-seize lubricant tube.
It is quieter than most of tools in it's class. Has accurate and repeatable closed loop temperature controller. The piece is lightweight, ergonomic and supplied with a comfortable, silicone grip.
The highest quality parts (air pump, ceramic heater, transformer, valves, control system etc.) offer trouble free operation for several years. To observe process control required for correct Rework and Repair one should use bottom pre-heater to increase rework safety and extend hot air pencil capabilities. Use of pre-heaters also protects the boards (and the vias inside them) against sudden thermal shock to prevent difficult to detect damages as well as components themselves.
X-KAR offers powerful Pre-heaters X-1000 and X-1000S, which will allow rework high mass boards.
System includes
XHP-200 Base Unit
XHP-10 Hot Air Pencil
XHP-NS1 Nozzle set (containing 3 nozzles: XN-2, XN-3, XN-6)
XWR-1 Nozzle wrench
ASL-1  Anti-seize Lubricant
XST-77 Tool Holder for XHP-10 Hot Air Pencil
Technical Specifications
| | |
| --- | --- |
| Input Voltage | 110-120, 220-240V AC  |
| Power consumption | Max. 90VA |
| Hand piece Voltage | 24V AC |
| Temperature Range | 200° - 420°C (392° - 788°F) |
| Air Source | High efficiency, long life diaphragm pump |
| Air Flow | 0.5 to 4.5 l/min |
| Hand piece weight | 50g (.11 lbs.) w/o cord |
| Air Nozzle kit XHP-NS1 | 3 Nozzles: XN-2, XN-3 and XN-6 |
| Weight | 3.6kg (8 lbs.) |
| System dimensions | 225 x 166 x 88 mm    8.9" x 6.5" x 3.5" |
| Packaged weight | 4kg (9 lbs.) |
Optional Equipment:

Available Tip Shapes for XSI-10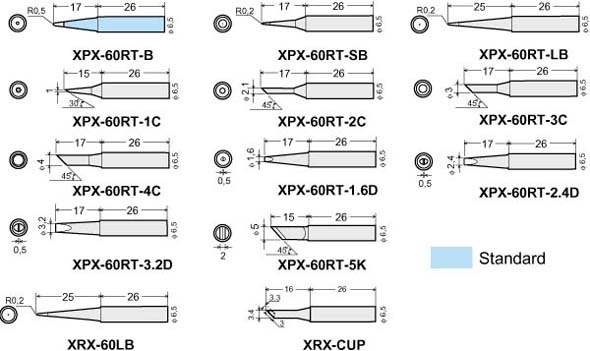 XH Nozzles for Hot Air Pencils XHP-10
| | | |
| --- | --- | --- |
| | | |
| XN-1 | XN-2 | XN-3 |
| | | |
| XN-4 | XN-5 | XN-6 |
| | | |
| XN-7 | XN-8 | XN-9 |