X-1003
Digital, High Power, Full Convection Preheater for Rework of SMT Boards
with six zones of independant temperature control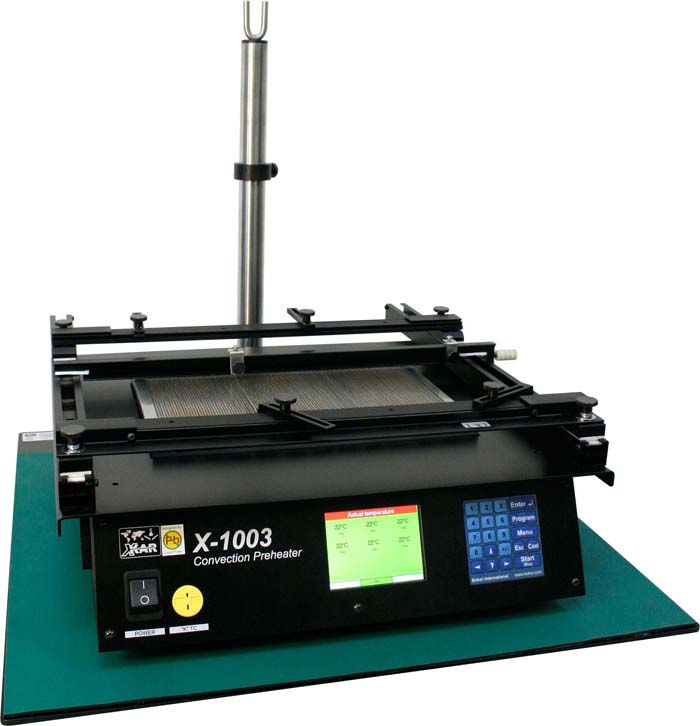 This is our top-of-the-line preheater. It offers six independent heating zones. This allows the operator to tailor the preheating process to the board in order to ensure even heat distribution. It also offers everything found in the X-1001. This includes user adjustable offsets, an acceleration mode, and a built-in "K" thermocouple. 
System Features:
Microprocessor controlled by powerful firmware
High power, large-area preheating chamber with six independent sections providing uniform heat or focused heat
ESD-safe
Close loop temperature PID control that maintains set temperatures with high accuracy while extending the heaters life
Can accommodate the optional XK Series tool stands with adjustable Z-Axis control, X-Y movement and rotation. (Note: XKB Base is required to mount the XK Tool Holder)
XU-6 Board Holder (

optional

) is recommended for proper mounting and support of computer-sized or larger boards
System includes:
X-1003 Unit
XK-TC 26/39 "K" Type Thermocouple
System Manual
Warranty Card
Available models:
X-1003 – Preheater 3.6 KW, Supply Voltage 208-240V.
X-1003-06 -- Preheater with integrated XU-6 Board Holder, 3.6 KW, Supply Voltage 208-240V.
Technical specifications
MODEL

X-1003

X-1003-06

Input Voltages

208-240V AC

Power Consumption

Max. 3650VA

Weight

20 Ib (9.08 kg.)

22.5Ib (10.2 kg.)

System dimensions

16" x 19" x 4 3/4"

(408 x 483 x 120 mm)

16" x 19" x 6.5"

(408 x 483 x 165 mm)

Packaged weight

24 lbs. (10.9 kg.)

27 Ib (12.2 kg.)

Preheat Temperature 

measured on a PCB

140-302 °F (60 -150 °C)

Preheat area

More than 10 1/4" x 7" (261 x 180mm)

Average PCB preheat 

time to 150°C

Less than 2 min.