X-1001
X-1001 Series Digital, High Power board Pre-heaters
for Rework of SMT Technology Boards, with very accurate temperature control.
The most advanced and powerful pre-heater for SMT REWORK and REPAIR offering full Process Control, increased rework speed, board protection and operator's convenience.
X-1001 Units are extremely accurate, have user adjustable off-set and unique acceleration mode to speed-up initial warm-up from room temperature.
Built-in "K" thermocouple type temperature meter provides on board means for verification of actual rework process temperatures at the point selected by the user.
The X-1000 Series Pre-heaters were designed to reduce the workspace required for SMT Rework and Repair. This design emphasizes on the appropriate process control for Rework and Repair. Pre-heater Units are microprocessor controlled to maintain accuracy and to extend heating element life.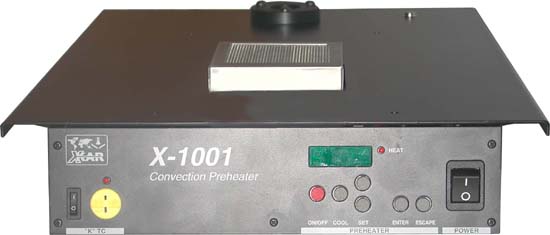 Use of pre-heaters provides protection of the boards (and the vias inside them) against sudden thermal shock to prevent difficult to detect damages as well as components themselves, which are already connected to the board. Bottom convection pre-heat of the large area of the boards guarantees even and gradual thermal expansion. Pre-heated board to e.g. 130 degrees C, needs much less thermal energy to de-solder or re-solder a component on the board. To de-solder the component only 53 degrees C are needed (183 deg., which is melting temperature of the solder minus 130 deg. which the board pre-heated to by the bottom pre-heater). To achieve this relatively low temperature differential, lower thermal capacity and lower air temperature tool can be used which guarantees safer for the board and the components rework process. This lower temperature differential required to obtain solder melting point makes the rework process much faster than the one, which is done when using conventional rework tools.
Standard board holder XU-1 or XU-1S allows you to mount 12" (305mm) wide x not limited in length boards. Other, optional board holders are available to accommodate boards up to 21.5" wide. Available models are: XU-2 and XU-3. The powerful Pre-heater will also allow you to rework high mass boards, which have through hole components like connectors etc. (you must use proper pre-heat temperature which is lower than the maximum allowable value for the plastic from which your connectors are made).System Features:
Microprocessor controlled.
High power, large area pre-heat chamber providing uniform heat.
ESD safe. Supplied with AS3-B ESD grounding cord and AML-301A wrist strap.
Close loop temperature PID control maintaining set temperatures with high accuracy and extending heaters life.
Can accommodate optional XK Series tool stands with adjustable Z-Axis control, X-Y movements and rotation.
Accommodates

optional

Semi Automatic Vacuum Component Pick-up Option X-CPO1, which attaches to the System and, when used with a vacuum source allows for automatic component lift upon reflow of the solder.
XFS-2 - ON-OFF

optional

Foot Switch (to supply bottom heat on demand).
System includes:
X-1001 or X-1001S Base Unit
XK-TC 26/39 "K" Type Thermocouple (only X-1001 Series)
AS3-B ESD grounding cord
AML-301A Cordless "+" adjustable wrist strap, blue, 4mm snap, coil cord 6ft
XPC-16 Power cord
Available models:
X-1001 - Digital, SMT High Power, Large Area Under board Pre-heater
X-1001 De-Lux - Digital, SMT High Power, Large Area Under board Pre-heater with ESD Fiberglass Top Plate
X-1001S - Digital, SMT High Power, Small Area, 500W Under board Pre-heater
X-1001S De-Lux - Digital, SMT High Power, Small Area, 500W Under board Pre-heater with ESD Fiberglass Top Plate