Focus D
System includes:
FOCUS"D" Base Unit

 with integral XHT-10 Hot Air Tool

XTH-1

 Hand piece holder for XHT series

XQF

 Quick Connect for easy attachment of nozzles
This Basic Tool outperforms the competition and saves you money on nozzles. Our nozzles are low mass and thin wall, and will give more accurate temperature readings than other high mass nozzles. Ergonomic hand piece (patented design) reduces cable pull during hand held operations. Fully Static Safe and easy to use.
FOCUS"D" 

is a convenient convection rework system with digital display.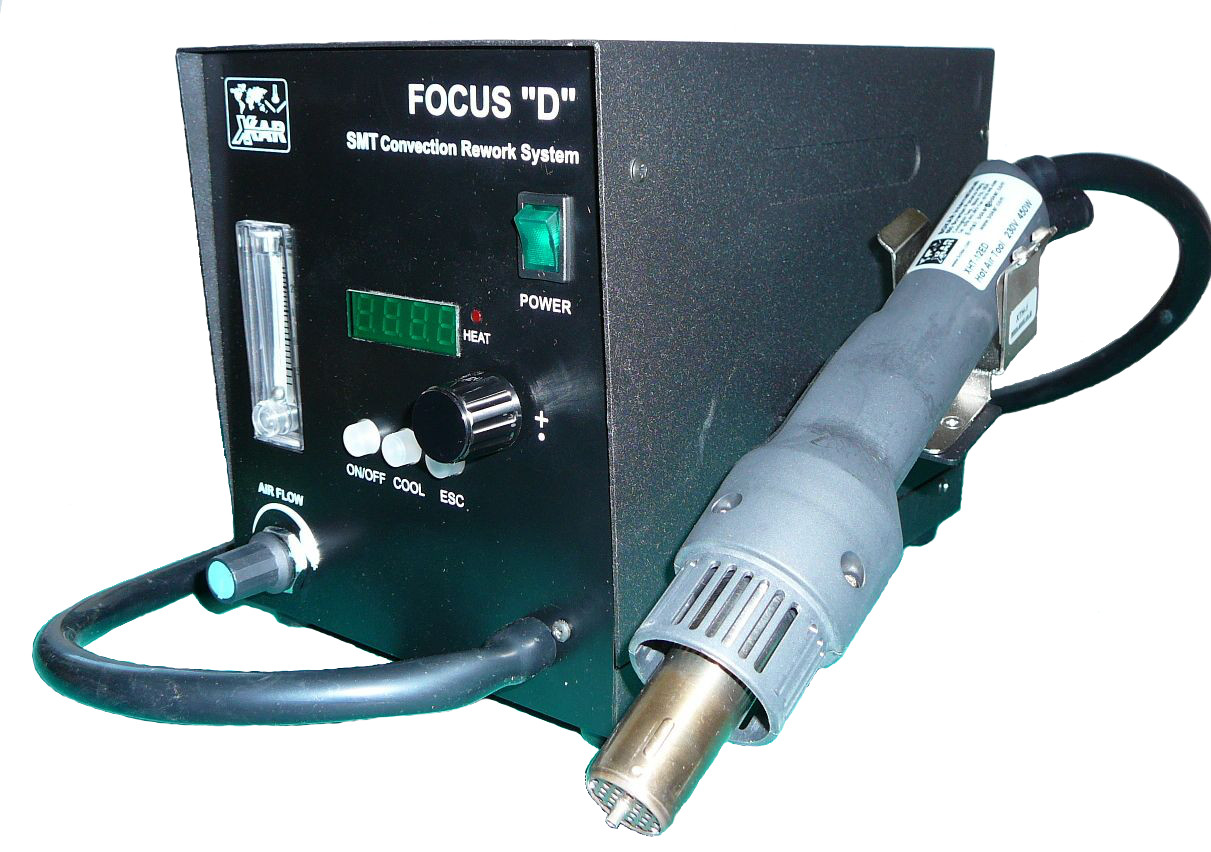 Features:
Removes and replaces discrete, SOIC, PLCC, QFP  and other SMD components
Closed-loop, variable temperature control
Fully grounded and static-safe system
Optical isolation with zero voltage switching
Over 50 nozzles available
FOCUS"D" hot air station features a powerful heater to precisely remove even high mass components from multi-layer boards. The unit has built-in air-pump to deliver full range of airflow. The systems temperature controller features zero voltage-switching circuitry for spike- free and safe application of power to the heater. Optional XFS–1 foot switch can be used to turn the system on and off. The hand piece of the FOCUS"D" is ergonomic and ESD safe. Convenient XQF Quick Connect allows change of the nozzles in few seconds time. End of the hand piece is not perpendicular to the axis of the tool. This patented design minimizes cable and airline pull on the tool during hand-held operations. Selection of 60+ nozzles and quick turn-around on custom nozzle orders, which are made with minimum surcharge makes removal and replacement of any SMD components possible and easy. Modular and unique (patent applied for) nozzle design reduces time to make custom nozzles if required.
Input Voltages
110-120, 220-240V AC
Power Consumption
500 W
Fuse
5A for 110-120V or 5A for 220-240V Slow-Blow 5mm x 20mm
Heater
Resistive, 450W line voltage
Heater Control
PID, Closed-Loop Thermocouple sensor feedback
Air Source
High efficiency diaphragm pump
Air Flow
Variable, 3 - 20 l/min, air flow controlled by the valve located on the front panel
Vacuum source
Diaphragm pump
Vacuum
200mmHg (8" Hg)
Temperature
150 ºC - 450 ºC (302 ºF - 842 ºF)(8" Hg)
Weight
2.6kg (22 lbs)
System dimensions
150mm x 220mm x 170mm
(5.9" x 8.7" x 6.7")
Packaged weight
3kg (66 lbs)